by Rachel Awe, Widow Might Board of Directors
I have been a widow for more years than I was married. Many friends never knew me as a wife. It has been over 15 years since the death of my husband Ken, the love of my life. My son Devin, who had just turned six when Ken died and started first grade the day after the funeral, has graduated from college and has a full-time job in his field.
August 29, 2001, the day my whole life changed, started normally with us talking and laughing as we got ready for the day. I was getting dressed when I heard a crash. My 32-year-old husband had fallen and couldn't get up.
At the hospital, I was eventually told that Ken had suffered an ischemic stroke. There had been no warning signs and he had always been healthy. About 15 hours later, we were informed that Ken was brain dead. I left my house that morning thinking that we would have to sell it if Ken was paralyzed. I returned home that night a widow.
God's supernatural peace descended on me and allowed me to get through the early days. It certainly wasn't me. I was able to be thankful for so many things. I was thankful that Ken wouldn't be in a nursing home for the next 50 years. I was thankful that I was home when he had the stroke. I was thankful he wasn't driving the childcare van when the stroke happened. (Ken was the director of our church's childcare center.) The list goes on and on.
People said dumb things at the visitation and funeral. One woman said she knew what I was going through because her husband travelled a lot. Others told me that they seemed more upset than I was at the funeral. I was devastated, but God was holding me up and getting me through. I needed to be strong for our child. Devin started first grade the day after the funeral.
My advice? There's nothing wrong with saying that you are sorry for our loss and don't know what to say.
I serve a big God. He can take my disappointment, anger and anything else I can throw at him. He will always love me and cherish me, no matter what. God never left. People will disappoint me, but God never will.
The world is hard and scary, but God is the one who comforts me in the dead of night. I cry out to Him and He continues to answer my prayers and surround me with His love. God gives me enough strength to survive each and every day.
I have learned to live, heal, grow and thrive because of God's love and the strength He gives me. One of my biggest accomplishments is raising my son Devin alone since he was six. I am so proud of him, and I treasure our close relationship. I have a great career as a web developer and enjoy the new challenges each day brings. I am blessed to belong to a wonderful church. Looking forward, I am excited for the opportunity to connect with other widows. I can't wait to see what God is going to do through Widow Might® to help the grieving women in our community.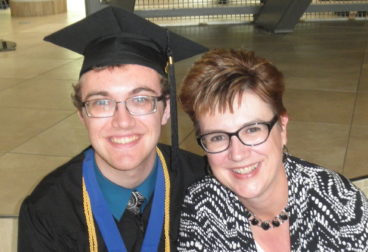 My advice? There's nothing wrong with saying that you are sorry for our loss and don't know what to say.